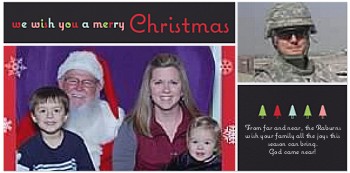 Bold Bright Wishes Christmas
So much has transpired since my last post...namely TIME! Hallelujah for that one! We are one week shy of the 4 month mark. Now for those of you who are not math-savvy, that is 1/3 of the way through our year, or 33.33%! Ohhhh yeah!
October was full of autumn events like a pumpkin patch trip, trunk-or-treating, and a fire station trip. The weekend of Halloween this crazy mamma did a trunk-or-treat on Friday night, trick-or-treating on Saturday night, followed by another trunk-or-treat on Sunday after church. Whaaaa?!?!? What was I thinking?! Needless to say I was taaaarrred and never so excited to see a Monday in my whole life! I have got some work to do with my four year old, though, for next year. He quickly lost interest in collecting candy at each of our outings and instead opted to put himself whole heartedly to the task of being "in character" as Bibleman. What is that about??
Oh, and baby boy, Mamma needs more chocolate next year.
Veteran's Day weekend I had the great opportunity to spend several days with 1300 lovely ladies ( 42 of which I know alot better than I did before!) in Dallas, TX at the PWOC conference. So many great workshops were offered each day along with incredible worship session (led by none other than Kari Jobe!) and inspiring messages (by the talented Priscilla Shirer). It was such a refreshing and spiritually renewing time with the Lord for me. It could not have come at better time for me in this deployment. It was so nice to be there in all of that atmosphere and sense God's presence in a might way. It is amazing what the Lord can speak when we have the chance to break away from the day to day clutter and noise of life! And I rediscovered the joy of getting up when I wanted to and having the time to do my hair AND my make-up...in the same day! Oh. so. marvelous. Many thanks to Mom and Dad for covering the babysitting duties while I partook of this soul-nurturing event.
As a side note, for those of you out there just beginning in this Army life or thinking about "jumping in", I have to say that the top two things that have blessed me the most are living on post and becoming a part of PWOC. If you have an opportunity to do one or both, please take the chance. The people you will meet and the sense of community that you will gain on post are priceless. The ladies at PWOC provide an almost instant connection, since nearly everyone is in the same military "boat". You will have something in common with everyone there. Okay, informercial over!
My kids continue to do well, despite living day to day with Daddy on another continent. We just came through a rough time behaviorally with my son. God is no doubt teaching him things as well through this time of separation. My prayer is that God uses this to give my son a larger world-view...that God is more than just our God here in America...that He has a presence in places very, very far away...and that He reigns supreme over all nations and tongues. I also pray that God uses this to give my son a deeper faith even at his young age. As a child of a deployed servicemember, my son is having to trust God with things many kids never will. What an opportunity for the Lord to do a mighty work in his little life! And my daughter? She's just plain CUTE and smitten with her daddy! She thinks the Skype sound is Daddy's personal ringtone...and she LOVES to kiss his picture on her nightstand. I'm praying that he will stay a vivid image in her mind throughout this year. So far, he is.
And in that place of dust and mountains across the globe, the Lord is faithfully keeping my husband safe and secure. His ministry is active and his contacts are frequent. His travel is also quite frequent... which makes for one nervous yet prayed-up wife! He has been traveling at least once a week (by convoy) to different regions to see all of his solders and offer them his religious support. We have had casualties. Not within our battalion, but with in our brigade. Heartbreaking nonetheless. So far we have lost 2 brave warriors. Precious souls to the King of kings. As I sat breathless at one of the memorial services, I couldn't help but breathe a prayer that God would give our chaplains a bountiful harvest of souls, that none of these lives taken in battle would be taken by THE enemy. I am so proud of the job that my husband is doing and so thankful that he is "at home in his element".
And now, the holidays are upon us, which will no doubt make time fly even faster. I am going to try to figure out the mystery of savoring each moment and this time with my kids while still trying to speed up the clock to February! Speaking of math, that sounds like an equation for NASA!
It's not supposed to be this way... I chose to revisit one of my favorite books yesterday.  (Love Lysa's story!) And my whole heart resonat...

Today I'm featuring a guest post - by a guest who hasn't made it onto my blog yet.  My husband!  For those who don't know him, i...

Today our family had the opportunity to attend my husband's unit's "Casing of the colors" ceremony, which most army units/...